2020 MEMBERSHIP
We've got a few exciting changes;
All 2020 Adult Members will receive an NAFC Membership Card.
This card will be used for proof of Membership and to receive your membership benefits which, as always, includes 10% off NAFC Merchandise. In addition, you will also be entitled to 10% off food & beverages at all three Club venues; Grand North, Northern Tavern and Prospect Oval.
The price of our Season & Home Match Memberships will increase by $10 from season 2020
due to our ongoing increasing costs.
Payment plans will now be available on selected memberships so that you can pay your Membership via four instalments, rather than one up front payment.
MEMBERSHIP FORMS
Click here to download a 2020 Membership Form
Click here to download a 2020 Presidents Group Membership Form
Click here to browse or purchase a Membership
CALL OUR MEMBERSHIP HOTLINE ON 1300 234 851
Rooster for Life (Auto renewal )
What is a "Rooster for Life"?
Rooster for Life is a Membership option, which you opt in to, so that your membership is automatically renewed on November 1 every year for the following season's membership.
What are the benefits of becoming a "Rooster for Life"?
You never have to fill any paperwork or worry about due dates
Ensure you go into all Early Bird Membership Incentive Draws
How does it work?
As a Roosters for Life Member, your upfront payment will be automatically deducted from your nominated Bank Card on November 1 each year and can only be paid for via Visa and Mastercard Credit or debit Cards.
Can I change my package in the future?
Yes, it is easy to change your Membership package. If you wish to upgrade your package after you renewal has been made, simply call the club.
Payment Plans
NAFC Membership is now more affordable than ever with a Roosters Payment Plan. Choose to pay your membership off over four instalments rather than a single upfront cost.
Payment plans only are available on selected memberships (see below).
Payment Plans are only available for online purchases
Payments can only be made through a valid credit/debit card.
A $1 transaction fee will be charged for each monthly instalment
Please note- Membership must be paid in full before you will receive your membership pack and/or tickets.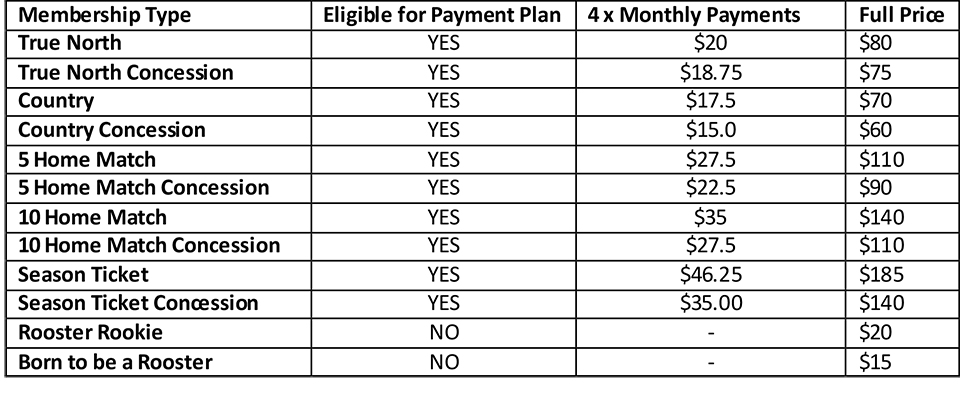 FAQ's
When will I receive my pack?
Our first batch of membership packs will be posted out in early March 2020. Stay tuned to emails for updates on the expected arrival date.
What if I am purchasing the Membership as a Christmas gift?
Let us know and we will issue you a voucher to give them.
What is valid concession?
To receive a concession rate you must hold a valid Pension, Health Care, Department of Veterans Affairs or Full time Student Card.
Is postage included within the Membership price?
Yes, your pack will be posted out, unless you have opted to pick it up.
Why should I provide an email address?
Emails help us keep you up to date with the latest news. Members with a registered email address will receive Football news first, even before it's released on our website & social media.
What kind of discount will I receive as a 2020 Member?
From 2020, Members will receive 10% off at the following places;
Grand North
Northern Tavern
Prospect Oval Function Room bars
NAFC Merchandise both online & at Reception
Membership Cards will be posted out with your Membership packs.

Contact us
If you have any queries regarding membership options, please do not hesitate to contact our Administration Team on
8344-8733 or send an email to administration@nafc.com.au